It sometimes takes me awhile to get on board, but once I'm on it's full speed ahead!  I had one of those moments last week-end. We were having a rib cook-off with some people from our church. Everyone was using Baby Back Ribs so I thought, why not? I took 3 Baby Back Ribs. I had the Butcher cut them in two.  I was still a little skeptical. I put 1 1/2 ribs in 2 roaster pans.  The rest is history.  Even the Butcher was impressed.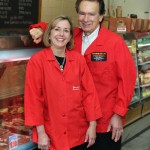 I hope you enjoy these–with my method, you can have delicious ribs all year long!
Ingredients
3 Baby Back Ribs (cut in 2 by the Butcher at your local meat market)
3 to 4 tablespoons of Smokey Barbecue Rub
4 cups of ketchup
3 tablespoons of mustard
1/2 cup of brown sugar
1 small diced onion
2 tablespoons of worscestershire sauce
Instructions
Mix together ketchup, mustard, brown sugar, diced onion, worcestershire sauce in a sauce pan and simmer over low heat for 45 minutes, stirring occasionally. Set aside. (You can do this while the ribs are cooking)
Rub each rib half with the Smokey Barbecue rub. Put three rib halves in a roaster pan. Put the lids on the roasters and place in the middle rack of the oven which has been heated to 325 degrees. Cook for 3 hours. At this point, the ribs should be fork tender. Reduce heat to 200 degrees and continue cooking for 2 hours. Drain ribs and return to the roaster pan. Cover with the barbecue sauce. Put the lids on the roaster and heat thoroughly (1 hour). Ribs will be falling off the bones.
http://shermanprovision.com/baby-back-ribs/