Well, it's Tuesday, and that means you are getting a blog post whether you want one or not. Today is a very special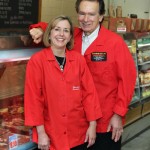 Tuesday–35 years ago the Butcher and I got married. I am not cooking on my anniversary, but I will share a side dish I made on Sunday for Mother's Day.  I have to give a big shout out to Dan Ratta who smoked an amazing Brisket for my Mother's Day dinner. Thank you, Dan. It was fantastic. Now on to the side dish that I served with the Brisket.
Cheesy Potatoes with bacon
4 Large potatoes (peeled and cubed) (about 2 1/2 pounds to 3 pounds)
1/2 pound of bacon (available at your local butcher shop)
2 cups of shredded cheese (Mexican blend, Cheddar, Colby Jack) Don't be afraid to add more if you like cheese
1 bunch of green onions
Place the uncooked bacon on a cookie sheet with a one inch lip. Place the cookie sheet in the oven and heat the oven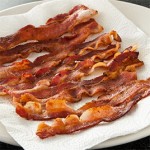 to 400 degrees. Cook for 20 to 22 minutes. The bacon should be crisp so you can crumble it or dice it. Remove the bacon from the cookie sheet and place on a paper towel to drain. Keep 2 to 3 Tablespoons of the bacon grease on the cookie sheet. Place the diced potatoes on the cookie sheet and coat them with the bacon grease. Return the cookie sheet to the oven and bake the potatoes at 400 degrees for 20 minutes. Stir the potatoes and make sure none are sticking. Return to the oven and cook for an additional 10 minutes. As the potatoes are cooking, crumble the bacon. Clean and slice the green onions thin. Pull out the cookie sheet with the potatoes on them. sprinkle the bacon and green onions over the potatoes, cover all with the cheese. Return to the oven and bake an additional 8 to 10 minutes until the cheese is completely melted and bubbling.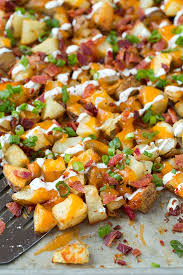 This is a great side dish for any meal but it was especially delicious with the Beef brisket.
Well, I have an anniversary to celebrate–Until next time…From our Butcher Block to your Table.