We are excited about a new product we are carrying.  There are 2 reasons we are so excited 1) The Butcher and The Butcher's Wife love them and 2) they are so easy to prepare.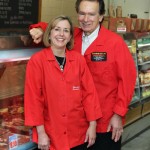 We have partnered with Pierogies of Cleveland and we are offering their frozen Pierogies in 6 packs for purchase.  Naturally, we had to taste test them to make sure they were a good choice for our customers.  Needless to say, we were hooked after the first bite.  We currently stock Potato, Sauerkraut, Potato and Sauerkraut, Potato and Cheddar Cheese, Potato and Carmelized Onion, Potato, Cheddar and Bacon, and Potato, Sun Dried Tomatoes and Mozzarella Cheese.  Let us know if you have other favorites and we will order them in.
Pierogies with Carmelized Onions and Sour Cream
6 pack of Pierogies (Pierogies of Cleveland) (available at your local meat market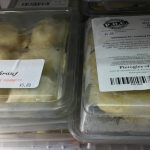 1 Large onion, peeled and sliced very thin
2 to 3 Tablespoons of Extra Virgin Olive Oil
12 oz. of Sour Cream
Put the Olive Oil in a skillet and heat over a medium burner. When the Olive Oil is heated add the sliced onions and cook for approximately 10 minutes. Use a spatula and turn frequently. Do not let the onions burn. When the onions are turning a light brown, make room in the skillet for the frozen Pierogies. Lower the burner temperature to low. Cook the Pierogies for 10 to 15 minutes. Pierogies should be thawed and thoroughly warmed. The outside should be a golden brown.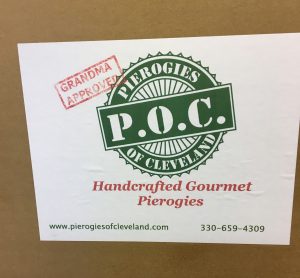 Serve with the Carmelized Onions and Sour Cream. Your family will love this. It will feel like a special treat. Until next time…From our Butcher Block to your Table.