Sometimes you just have to go "back to the basics".  Pulled Pork is one of my "go to" recipes.  This time of the year is filled with Family Reunions or get-togethers with friends.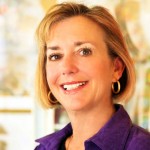 Pulled Pork is such a versatile dish.  You can serve it over baked potatoes, on buns or just by itself.  You can make up a big batch, put it in the freezer and pull it out for a quick dinner.  Whatever the occasion–you can't go wrong with pulled pork!
Pulled Pork
Untrimmed Pork Butt (8 to 10 pounds) (Available at your local butcher shop)
4 to 5 Tablespoons of Wing & Fry Smokey BBQ rub (available at your local meat market)
2 jars of Walnut Creek Apple-butter Barbecue Sauce with diced onions (available at your local butcher shop)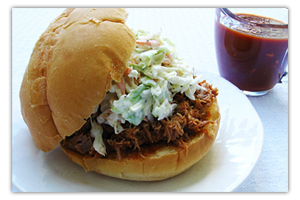 Rub the pork butt with the Wing & Fry Smokey BBQ rub. Place in a crock pot and set on high. If using a roaster pan, put the seasoned pork butt in a roasting pan and cover with a lid or with heavy-duty foil and place in an oven heated to 350 degrees. Cook for 3 hours. Reduce oven heat to 275 degrees. Put Crock pot setting on low. At this point you will want to cook the pork butt for an additional 8 hours or until fork tender. When the butt is fork tender and will easily come off of the bone, remove the butt from the pan (crock pot) and allow to cool slightly until it can be handled easily. Discard any juices from the pan (crock pot). Remove the bone from the pork butt (and any extra fat) and return it to the pan (crock pot). Take one jar of barbecue sauce and pour it over the top of the pork. return it to the oven at 275 degrees or in the crock pot on low. Allow this to cook for about 1 hour. This allows the sauce to "marry" into the pork and will make it easier to pull. Take 2 forks and break up the pork butt and mix it thoroughly with the sauce. Add additional sauce as necessary. Put the oven at 225 and return the pulled pork to the oven until it is ready to serve. (Crock pot setting to warm)
Pair this with some Memphis Cole Slaw (available at your local meat market) and you will be living "high off the hog".
Until next time…From our Butcher Block to your Table.