I am feeling melancholy today.  I don't know why.  It is a beautiful summer day.  Maybe it is the realization that summer is going by so fast.  Then I stop and think how many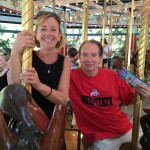 summers have already gone by and thinking that maybe life is going fast as well.  I don't intend for this to be a downer.  I just want to remind you to grab every moment.
Fair season is in full swing.  I am going to challenge you (and me too) to go to one of the fairs and act like a kid again.  Since we are on the fair theme this week, I thought I would share an easy meal that is a fair favorite.  It is so easy to make.
Sausage and Pepper