This is definitely chili (and chilly) weather.  There is nothing like a hot bowl of chili to warm you up when it is freezing cold outside.
 This is a simple recipe–but very tasty.  Two secrets, 1) add the seasonings to the meat and onions and 2)  cook the chili for 2 days.
Chili
2 Pounds of Ground Beef (ground turkey can be substituted)
2 diced onions
4 Tablespoons of Chili powder (hot, regular or a combination)
1 Tablespoon of Ground Cumin
2) cans of Tomato Puree (28 oz. each)
2) cans of diced tomatoes (15 oz. each)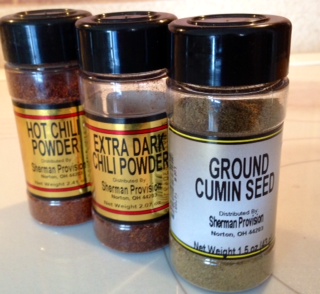 2) cans of dark kidney beans
Put the diced onions and the ground beef in a 5 to 6 quart roaster pan. Over medium heat cook the meat and onions, stirring frequently. If necessary, drain the ground beef after it is cooked. Add the Chili powder and the ground Cumin to the cooked meat and onions.  Stir. Over low heat simmer the meat and onions and spices for 5 minutes. Add the Tomato Puree and the Diced Tomatoes and simmer for 5 hours. Watch the Chili.  Stir the chili with a wooden spoon.  You want a bare simmer. If you prefer a thinner consistency you can add water to your chili. Cool and refrigerate overnight. The next day warm and cook the chili for an additional 2 hours. Add the undrained kidney beans to your chili and heat for an additional 45 minutes.  Chili always tastes better the second day.
Finely grated Mexican cheese is a great topping for chili. Serve with saltine crackers.
The snow is supposed to fly tonight. Keep warm and safe. Until next time…From our Butcher Block to your Table.
Read More