We all like to entertain–especially at the Holidays.  We have special guests coming but time is at a premium.  I have to share my experience with Karen's Spice Kitchen Shrimp Curry.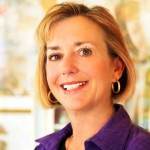 I got home from work 40 minutes before my guests were due at my house. Did I panic? Not on your life! I sautéed the onion and garlic, then added the spice packet. I added coconut milk, tomatoes and simmered while I showered. I made a salad and rice. I added the shrimp and simmered a few minutes. My guests were treated to a gourmet meal and I was not stressed at all.
We carry several varieties of these wonderful gourmet spice packets.  Make sure you pick up what you need at our store and WOW your guests this Holiday season.
Shrimp Curry
Karen's Spice Kitchen Shrimp Curry packet (available at your local meat market)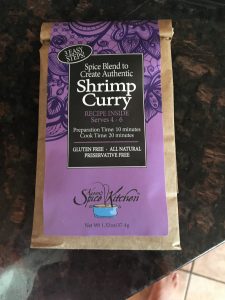 1 large onion, chopped
3 cloves garlic, crushed (or 3 tablespoons granulated garlic)
2 tablespoons cooking oil of your choice
2 pounds cooked, peeled and deveined shrimp (available at your local butcher shop)  You can use uncooked shrimp–just cook until the shrimp is done
2 tablespoons lime or lemon juice
1 can (13.5 oz.) coconut milk
8 oz. chopped tomatoes, canned or peeled (seeded if fresh)
1/4 cup chopped fresh cilantro plus extra sprigs for garnish if desired
In a 4 to 5 quart pot, cook the diced onions in oil until transparent. Add the garlic and cook for a minute more. Turn down the heat and add the contents of the larger spice packet (from Karen's Spice Kitchen). Cook for another few seconds, stirring constantly. Add the lemon/lime juice, coconut milk and tomatoes. Cook the mixture at a simmer (on lowest heat),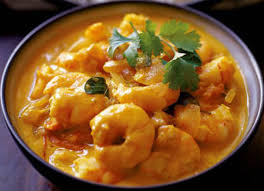 stirring occasionally for about 10 minutes. Taste and add additional hot chili powder (included in your packet from Karen's Spice Kitchen), a little at a time, if you like it hotter.
Stir in the shrimp and if desired, the fresh cilantro. Cook for another 2 – 3 minutes before serving over Basmati rice.
The sauce is amazing and the meal is done in 20 minutes. Everyone is happy–especially Mom!
Until next time…From our Butcher Block to your Table.