It is the Butcher's Birthday on Tuesday.  One of his favorite meals is Barbecued Ribs.  I have to admit we celebrated his Birthday today with family and we grilled out hamburgers.  It was wonderful to have a day nice enough for grilling out.  I am still sharing the recipe for ribs because it is his favorite.
Barbecue Pork Ribs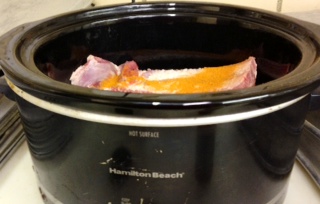 2 Pork Ribs cut every 2 bones
2 Tablespoons Wing and Fry Smokey Barbecue Seasoning Rub
1 to 2 Bottles of Old Fashioned Barbecue Sauce
The Butcher  took 2 meaty pork spare ribs and cut them into two bone pieces.  I rubbed the pieces with the 2 Tablespoons of Smokey Barbecue Seasoning and put them in the crock pot.  I cooked them on high for approximately 4 1/2 hours.  I then removed the ribs from the crock pot and drained the juice.  I returned the ribs to the crock pot and covered them with 1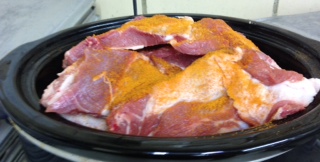 bottle of barbecue sauce.  If you prefer ribs without sauce, you can eliminate the barbecue sauce.  If you like yours saucy (like the Butcher and I) you can add a second bottle of barbecue sauce about 1 hour before you are going to serve them.
All told, I cooked the ribs for about 8 hours in the crock pot on high.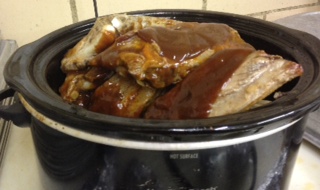 Herold's Traditional Cole Slaw or Memphis Cole Slaw is a great accompaniment for this meal.
Leftovers are just as good heated up.
Until next time…From our Butcher Block to your Table.