It is hard to beat a Prime Rib Roast for a celebration, especially when that celebration is Christmas. Whether it is bone-in, semi-boneless or boneless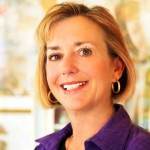 you will have a delicious meal to serve your family and it won't take you all day in the kitchen.
Enjoy your family this Holiday Season.
Rib Roast according to the Betty Crocker Cookbook
Place beef, fat side up, on rack in shallow roasting
pan.  I like to put Montreal Steak Rub Seasoning on the outside of the Rib Roast.   The rack keeps the meat out of the drippings.
(With a rib roast, the ribs form a natural rack.) It
Is not necessary to baste.
Do not add water. Do not cover. Roast in 325 degree
oven. It is not necessary to preheat the oven.
A rule of thumb is to cook a bone in rib 23 to 25 minutes per pound for rare, 27 to 30 minutes per pound for medium and 32 to 35 minutes per pound for well done.
With a boneless roast the cooking time is decreased to 18 to 20 minutes per pound for rare, 20 to 22 minutes per pound for medium and 22 to 24 minutes per pound for well done. The meat thermometer should always be your guide. Remember, the outside ends will be cooked a little more than the center. Remove from the oven when the meat thermometer registers 5 to 10 degrees lower than the desired temperature.
Rib Roast 6 to 8 pounds (Available at your local meat market)  If you want a bone-in Rib Roast, we can cut off the bone and retie it for cooking.
23 to 25 minutes per pound 140 degrees rare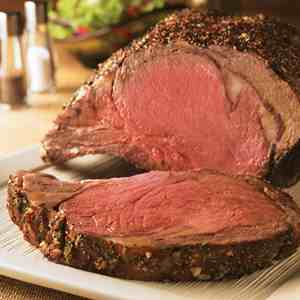 27 to 30 minutes per pound 160 degrees medium
32 to 35 minutes per pound 170 degrees well
140 degrees for rare
160 degrees for medium
170 degrees for well done
Oven Browned Potatoes
About 1 ½ hours before the beef roast is done, clean and boil
desired number of potatoes for 10 minutes. Drain the potatoes.
Cut a slice in the potatoes almost completely through. Place the
potatoes in beef drippings in pan, turning each potato to coat
completely. Continue cooking, turning potatoes once, until
tender and golden brown. Sprinkle with salt and pepper to taste.
Always make sure meat products are handled properly and cooked thoroughly.
Until next time… "From our Butcher Block to your Table".