It's beginning to look a lot like Christmas.  The snow outside really makes it feel like Christmas is right around the corner.  My "Claim to Fame" at Christmas is my Chex Party Mix and my fudge.  Many people are intimidated about making fudge.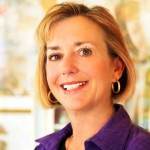 Today I am sharing a recipe for "no fail" fudge. One batch will make 2 1/2 pounds. I recommend doubling the recipe.  It is always special to share with friends and family.  The reason I like this recipe is that you time the fudge–no candy thermometers to fool with. It will take a while for the fudge to come to a rolling boil. Don't start timing until it is at the rolling boil stage. When it is set your timer for 5 minutes. Another tip–have your chips and marshmallow cream ready to go before you start the process with the butter, sugar and evaporated milk.
No Fail Fudge
3 cups sugar
3/4 cup butter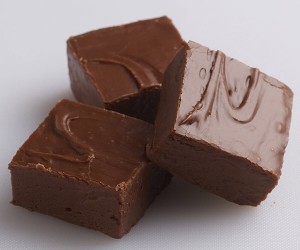 2/3 cup evaporated milk (5 1/3 oz.)
12 oz. Bag of chocolate chips (white chocolate chips or peanut butter chips can also be used)
7 oz. marshmallow cream
1 teaspoon vanilla
13″ X 9″ glass pan greased with butter
Combine sugar, butter, and milk in a heavy 2 1/2 quart saucepan. Bring to a rolling boil over medium heat stirring constantly. Boil for 5 minutes. Stir and remove from heat. Stir in chips, (if using white chocolate chips, melt in microwave in 30 second increments until chips are melted and can be stirred–add to the butter/sugar/milk mixture), marshmallow cream and vanilla. Stir vigorously until well blended. Pour into a greased (use butter) 13″ X 9″ pan.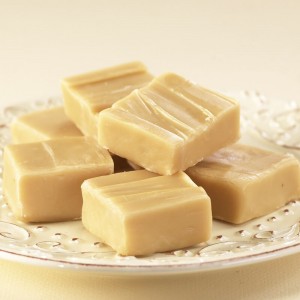 Allow to cool completely. After cooled, cut into 1″ squares.
Until next time…From our Butcher Block to your Table.