You can tell by my title that I am a big fan of Pumpkin Pie.  I love my Pumpkin Pie smothered in real whipped cream.
 The kind you spray from a can.  You get the picture.  Well, the Butcher also loves Pumpkin Pie; However, he eats it without whipped cream.  This used to be a real "bone" of contention between us.  I soon realized I was not going to win him over to my way of thinking so I stopped trying.  This recipe for Pumpkin Pie is simple.  It is still delicious and you have time to enjoy your Holiday.
Pumpkin Pie
3/4 cup sugar
1 1/2 teaspoons of ground cinnamon (available at your local meat market)
1 teaspoon of Pumpkin Pie Spice (available at your local butcher shop)
2 large eggs beaten
15 oz. of pure pumpkin (I use Libby's)
1 can (12 oz.) of Evaporated Milk
1 uncooked 9″ pie crust (I use Pillsbury) in a 10″ pie pan (available at your local meat market)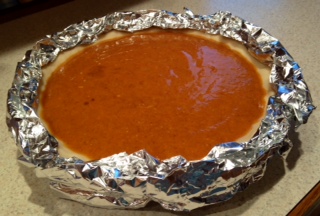 You can easily double this recipe, and make 2 pies.
Preheat the oven to 425 degrees.
Mix all ingredients together in a large bowl. Whisk ingredients together. Pour the Pumpkin Pie mixture into the prepared pie crust. I put foil on the crust to keep it from getting overly brown during cooking. This can be a little tricky. You want to cover the crust; However, you want to keep the foil out of the Pumpkin Pie Mixture. Bake at 425 degrees for 15 minutes. Reduce heat to 350 degrees and cook for an additional 40 to 50 minutes. Pie is done when a knife stuck in the middle of the pie comes out clean. You do not want to over-cook a pumpkin pie. Cool for 2 hours. Serve immediately or refrigerate.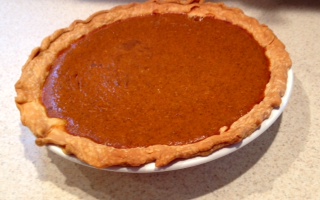 One of my customers told me about her family tradition of having the Thanksgiving pies on Wednesday night. They call it "Thanksgiving Eve" Pie and Card party. I think it makes perfect sense. You never truly enjoy the pie on Thanksgiving because of all the other food. Tonight, the Butcher and I will celebrate "Thanksgiving Eve,Eve" Pie night. Does anyone want to join us for pie and a game of euchre?
May you and your family have a truly Blessed Thanksgiving. Until next time…From our Butcher Block to your Table.