We are definitely on the countdown to Thanksgiving and the other holiday in December which shall not be mentioned yet.  The weather has been nippy.  It has felt more like Winter than Fall. Once again Thanksgiving has come upon us suddenly. No need to fret. There is really little preparation that can be made until the week of Thanksgiving so you are still right on schedule.   Take a deep breath and get prepared for the traditional feast. I use Betty Crocker as my guide and she has not let me down yet.  Here are my tips for a delicious Thanksgiving dinner that anyone can prepare.
Turkey 12 to 24 pounds (available at your local meat market)
Make sure neck, giblets, etc. are removed from the neck cavity
2 Tablespoons of Salt
3 Tablespoons of Butter
Rinse cavities of turkey, lightly salt and then rub butter into the cavities. I put my turkey in a disposable aluminum pan so clean up is easy. The turkey is now ready for the stuffing.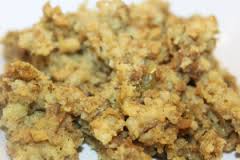 Stuffing
1 1/2 cups chopped celery (with leaves)
1 cup finely chopped onion
1/4 cup of butter
8 ounces of chicken broth (or chicken stock)
9 cups of soft bread cubes
1 teaspoon salt
1 teaspoon of poultry seasoning (1/2 teaspoon sage, 1/2 teaspoon thyme) (available at your local Butcher shop)
1/4 teaspoon of pepper
Cook and stir onion and celery in butter and chicken broth until celery is tender, remove from heat. Stir in remaining ingredients.
Stuff the cavities of the turkey with the stuffing mixture and place breast side down in the pan you are using to roast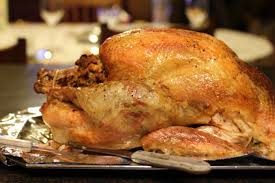 the turkey. This is a tip I got from Jane Snow. Your turkey will be very juicy. The oven should be set at 325 degrees. Place the stuffed turkey in the oven.
Approximate cooking times are as follows:
8 to 12 pounds 3 to 3 1/2 hours
12 to 16 pounds 4 1/2 to 5 1/2 hours
16 to 20 pounds 5 1/2 to 6 1/2 hours
20 to 24 pounds 6 1/2 to 7 hours
Internal Temperature should be 185 degrees and the leg should easily pull apart when the turkey is done.
Remember to include the weight of the stuffing with the weight of the turkey when you are looking at the cooking time. The stuffing recipe can easily be doubled for a larger turkey.
When the turkey is thoroughly cooked, immediately remove the stuffing from the turkey and store separately. Let the turkey set for about 15 minutes before carving.
Enjoy and have a wonderful and blessed Thanksgiving.
Until next time…From our Butcher Block to your Table.