We celebrated our son's Birthday this week.  Joe requested Banana Nut Cake.  The most difficult thing about this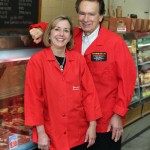 cake was finding bananas ripe enough to make the cake.  I hope you enjoy this as much as we did.
Banana Nut Cake
3 bananas mashed (make sure they are yellow)
2 1/3 cups flour (I used 5 Roses flour) (available at your local meat market)
1 2/3 cups sugar
2/3 cups chopped walnuts
2/3 cup unsweetened applesauce
2/3 cup half and half
3 eggs
1 1/4 teaspoon baking soda
1 1/4 teaspoon baking powder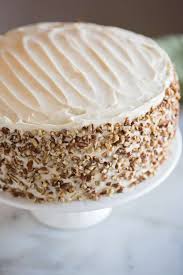 1 teaspoon salt
Preheat oven to 350 degrees. Grease and flour 2 round pans (9″) Mix flour, baking soda, baking powder and salt together. Beat all ingredients on low-speed, scraping bowl constantly 30 seconds. Beat on high-speed, scraping bowl occasionally 3 minutes. I beat this by hand and it turned out great. Divide the cake batter between the 2 pans. Place in the center rack of the oven and bake 35 minutes (Your oven may bake a little faster or a little slower). Test the cake by inserting a toothpick in the center of the cake. If it comes out clean your cake is done.
Cool in the pans for approximately 15 minutes. Then place parchment paper on 2 cooling racks and remove the cakes from the pans and allow to thoroughly cool on the cooling racks.
Icing
1/2 Banana mashed (make sure it is yellow but not over-ripe)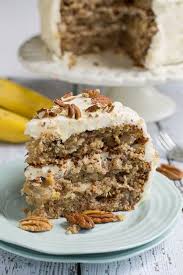 1/3 cup of softened butter
3 cups powdered sugar (you may use a little more or a little less)
Mix the mashed banana and the butter with a mixer. Gradually add the powdered sugar until it is a stiff consistency. Make sure the cake is thoroughly cool before icing the cake. Put some of the icing on the plate you are using to hold the cake. This will hold your cake in place. Place the first cake on the plate and ice the top of the cake. Place the second cake on top of the first and ice the top of the cake. Take icing on your knife (or whatever you are using to spread the icing) and ice the side of the cake–smoothing it out as you go. You will have a cake that looks great as well as tastes great.
Put chopped walnuts on the outside of the cake. The sweet icing with the salted nuts is a great contrast for the taste buds.
That's all for this week. Until next time…From our Butcher Block to your Table.