I am so enjoying this beautiful Summer Weather.  How many of you are like me and you can't believe the 4th of July is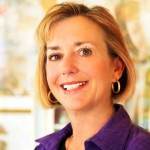 next week?  This will be a fantastic dessert for a Fourth of July picnic–you even have the red, white and blue motif.  It is light and delicious.  It is also so easy to make.  The leftovers are great the next day!
1 oz instant vanilla pudding (1 package)
1 1/2 cups milk
1 cup vanilla yogurt
6 oz cream cheese (available at your local meat market)
1/2 cup sour cream (available at your local butcher shop)
12 oz whipped cream (cool whip)
1 angel food cake prepared and cut into cubes
2 cups strawberries chopped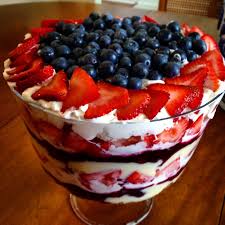 2 cups raspberries
2 cups blue berries
In your mixer whisk the milk and pudding mix together for 2 minutes or until firm. Pour into another bowl and set aside.

In the bowl of your mixer add yogurt, cream cheese and sour cream and beat until smooth. Fold in pudding and 1 cup of the whipped topping.

Place a third of the angel food cake cubes in a 4 quart trifle bowl. Top with a third of the pudding mixture, half of the remaining whipped topping and a third of the berries. Repeat layers once. Top with remaining cake, pudding and berries.

Serve immediately or refrigerate.

That's all for now.  Until next time…From our Butcher Block to your Table.