Here we are in 2018.  I am thankful the extremely cold weather has taken a much needed break.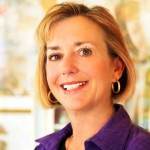 I want to share a fun and healthy recipe for the new year.  This should be a family favorite.
Pepper Pizza with pepperoni
5 peppers (green, red, orange and yellow) cut in 2 with the stems and seeds removed)
Salt and pepper to taste
2 Tablespoons if Extra Virgin Olive Oil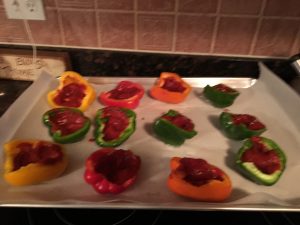 1 1/2 cans of Pizza Sauce ( available at your local meat market)
8 to 12 oz. shredded Provolone/Mozzarella cheese
1 package of pepperoni (available at your local butcher shop)
Preheat the oven to 350 degrees. Put parchment paper on a cookie sheet. Place the pepper halves on the parchment paper. Sprinkle pepper halves with salt and pepper. Drizzle the Olive Oil over the peppers. Spoon Pizza Sauce into the peppers. Put the shredded cheese on the Pizza Sauce. Put 4 slices of Pepperoni on each "Pizza" and place them in the oven. Bake for 15 to 18 minutes.
Be sure to be creative with the Pizza "toppings" to reflect your family's taste. This can also be used as an appetizer.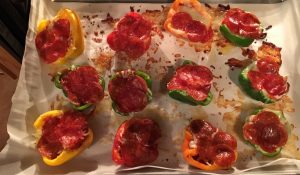 Until next time…From our Butcher Block to your Table.