I love Eggplant Parmesan and so does my niece, Lauren. We were in the mood for some last week-end and I made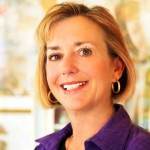 plenty so the extras could be frozen and brought out for lunches.
Baked Eggplant Parmesan
2 eggplants (weight approximately 1 to 1.5 pounds each)
2 eggs (beaten)
1 cup coconut flour
1/2 cup Parmesan Cheese
1 teaspoon fresh ground pepper
1 Tablespoon minced garlic
40 oz. Marinara sauce or Spaghetti sauce
2 to 3 Tablespoons of Olive Oil
16 oz. Provolone Cheese (or Mozzarella Cheese) (Sliced or grated)
Parmesan cheese for topping
Wash eggplants, and slice 1/4 inch thick. Salt the slices and let sit for 30 minutes.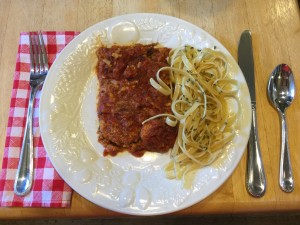 Preheat the oven to 375 degrees. Rinse off eggplant slices and dry with paper towels. Mix together coconut flour, 1/2 cup Parmesan cheese, ground pepper and minced garlic in a 1 gallon bag. Take the 2 eggs and beat them together in a bowl. Take the eggplant slices and put them through the eggs, and then shake them in the flour mixture until coated. Repeat until all eggplant slices are coated.
Take 2 cookie sheets and Coat them with Olive Oil. Put them in the pre-heated oven and bake for 15 to 20 minutes, turning once.
Remove the baked eggplant slices from the oven and allow to cool until they can be handled. Reduce oven heat to 350 degrees. Take a 9″ X 13″ casserole dish. Put Sauce on the bottom of the dish, cover with eggplant slices, cover the eggplant slices with sauce and then the sliced or grated Provolone/Mozzarella Cheese. Repeat layers one or 2 times ending with cheese. You can do 2 layers and have a smaller dish (8″ X 8″) with 2 layers of Eggplant Parmesan that you can have for another dinner. You can put this together and bake within 24 hours.
Bake in a 350 degree oven for 35 to 40 minutes. Top with grated Parmesan cheese.
Thanks to my sister, Fredda, who took the picture of the Eggplant Parmesan.
Enjoy! Until next time…From our Butcher Block to your Table.
Read More