We had this for dinner last night and the Butcher gave it a 2 thumbs up! He said I can make this anytime. This is a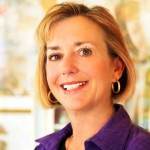 light meal and by using a slow cooker  you won't heat up your kitchen.  No one is getting "grilled" while cooking out. Finish this off with a salad and sliced watermelon for a cool summer meal.
Slow Cooker Honey Lime Pork
3 1/2 to 4 pounds boneless pork loin (trimmed–available at your local butcher shop) cut in 2 pieces
2 Tablespoons of Extra Virgin Olive Oil (available at your local meat market)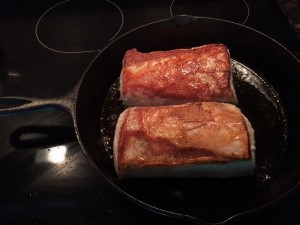 salt and pepper
Sauce
1/2 cup honey
2 1/2 tablespoons soy sauce
1 tablespoon Worcestershire sauce
2 tablespoons granulated garlic
1/4 cup lime juice
1/4 teaspoon red pepper flakes
1/4 teaspoon ground ginger (optional)
2 tablespoons corn starch
Season the pork loins generously with salt and pepper. Heat olive oil in a large skillet over medium high–a large iron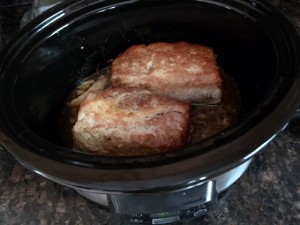 skillet works well. Once the oil is hot, sear the pork loins until nicely browned. Turn the pork loins over and brown the other side.
Combine honey, soy sauce, Worcestershire sauce, garlic, lime juice, red pepper flakes and ground ginger in a small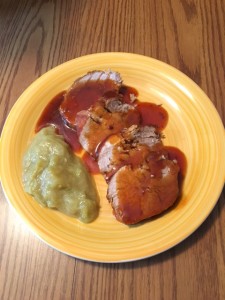 bowl and whisk together.
Transfer the pork loins to the slow cooker and pour the sauce over the top. Cover the slow cooker and cook on high for 4 hours. When the pork is tender remove it from the slow cooker and carefully pour the sauce into a saucepan and place over medium high heat. Return the pork loins to the slow cooker and use the "keep warm" setting to keep the pork loins warm. Combine the cornstarch with 3 tablespoons of water and whisk together. Pour the cornstarch mixture into the sauce and bring to a boil. Reduce the heat and cook for 12 minutes or until the mixture starts to thicken.
Slice the pork loins and serve with the thickened sauce. This is so refreshing. I am looking forward to leftovers tonight. Enjoy! Until next time…From our Butcher Block to your Table.