After Thanksgiving there is a need to use the leftover turkey.  About this time you are trying to disguise the turkey, because after all, you can only eat so much turkey at one time. Next year, dice your leftover turkey and freeze. Then you can have turkey enchiladas any time you like.
Turkey Enchiladas
3 cups of cut up cooked turkey (I used dark meat)
3 cans of red enchilada sauce
1 to 2 chopped onions
2 to 3 cups of finely shredded Mexican cheese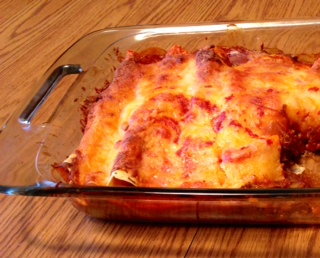 8 flour tortillas
Mix the cooked turkey, 1 1/2 cans of enchilada sauce and 2 onions in a saucepan. Put this on the stove and simmer it for 45 minutes. The turkey was falling apart and the onions were cooked through.
Preheat oven to 350 degrees.
Take a 9 X 13 inch glass baking dish and put 1/2 can of enchilada sauce in the bottom of the pan. Put one tortilla at a time in the microwave for 12 seconds to soften them up. Put the tortilla through the enchilada sauce in the pan until the outside is coated. Put about 4 tablespoons of the turkey onion mixture inside the tortilla. Cover the turkey mixture with Mexican cheese. Roll the tortilla with the seam side down in the glass dish.  Repeat this process with the remaining flour tortillas, adding enchilada sauce to the bottom of the dish as needed. Take the remaining enchilada sauce (about 1/2 of a can) and pour it over the enchiladas. Put about 1 cup of shredded cheese on top of the enchiladas and sauce. Put the pan in the preheated oven and cooked the enchiladas for 35 minutes.  Leftover enchiladas can be frozen and pulled out for an easy lunch  or dinner.
The enchiladas were delicious. Just what the doctor (or Butcher) ordered.
Enjoy your week, until next time.…From our Butcher Block to your Table