We celebrate Thanksgiving one day a year; However, we should remember to be thankful everyday. We have much to be thankful about.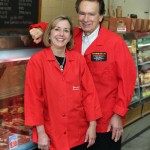 Thanks to all of you for the support you give us week after week and year after year. We wouldn't be here without you and we are very grateful.
I can't write a Thanksgiving blog without bringing up turkey. Even if you have baked a turkey for years it never hurts to have a refresher course. Make sure the turkey is thawed and ready to bake. I rinse out the neck cavity (make sure you remove any gizzards, neck, liver etc. that might be packaged in the cavity), and rinse out the chest cavity.
I stuff my turkey. Many people no longer do this. I never place stuffing in the bird until I am ready to bake it. I usually make my stuffing the night before and refrigerate it. I am placing cold stuffing in a cold bird. This has always worked for me; however, if you are concerned bake your stuffing in a separate casserole dish.  Also, another good tip is to use a disposable foil pan (available at your local meat market). This will save you a lot of clean up. After you have cooked the Thanksgiving dinner you will be ready for some shortcuts.
Stuffing
1 1/2 cups chopped celery (with leaves)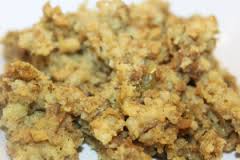 3/4 cup chopped onion
4 Tablespoons of butter
8 oz. of chicken or turkey broth
9 cups soft bread cubes
1 teaspoon salt
1 teaspoon rubbed sage or 1 teaspoon Poultry Seasoning (available at your local butcher shop )

In a large roasting pan over medium heat melt the butter. Add the celery and onion and cook until tender. Add chicken or turkey broth. Remove from heat. Add the rest of the ingredients and stir. At this point you can place the stuffing in a greased casserole, cover and bake in a 375 degree oven about 30 minutes. I make my stuffing up the night before so I place cold stuffing in the cold turkey.
If you are stuffing the turkey, allow 3/4 cup stuffing for each pound of turkey. You can double this recipe if you need additional stuffing. Stuff the neck cavity and the chest cavity with the stuffing rub the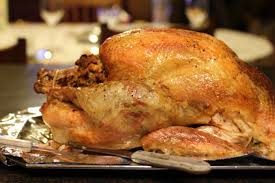 outside of the turkey with butter. Turn the turkey upside down (breast side is down) in the disposable foil pan. Cover with foil and place in an oven heated to 325 degrees. When the turkey is done, the internal temperature should be 185 degrees. (Remember to add the weight of the stuffing with the weight of the bird for the total weight)
Timetable as per Betty Crocker Cookbook
8 to 12 pounds 3 1/2 to 4 1/2 hours
12 to 16 pounds 4 1/2 to 5 1/2 hours
16 to 20 pounds 5 1/2 to 6 1/2 hours
20 to 24 pounds 6 1/2 to 7 1/2 hours
If you desire to have that "perfect" turkey look you can flip the turkey with 1 hour left to bake, and remove the foil so the breast will get browned. We usually carve the turkey before we serve so it really doesn't matter because no one sees the turkey unless they are on the cooking detail. When the turkey is done, remove the turkey from the oven and allow to rest for 15 minutes before carving. Immediately remove the stuffing from the cavities, place in a serving bowl and cover with foil to keep warm. You can also remove the turkey drippings from the pan.
Turkey Gravy
Put turkey drippings in a skillet or roasting pan and heat. Add 2 Tablespoons of flour or cornstarch to 1/2 cup of milk and whisk together. Carefully add the mixture to the turkey drippings and whisk. If gravy is too thick you can add additional turkey broth or chicken broth. If mixture is too thin, carefully add additional flour/cornstarch and milk mixture. Keep whisking as you heat the gravy. The gravy will thicken slightly as it cooks.
Happy Thanksgiving to all, and to all a good night. Until next time…From our Butcher Block to your Table.