Smoked Pork Chops are a great selection for dinner.  Why?  You might ask.  I'll tell you why.  The Butcher has done all of the hard work for you and you will get all the credit.  That works for me every time!  I paired my Smoked Pork Chops with pork and sauerkraut, smashed garlic red potatoes and green beans.  It doesn't get much better than that.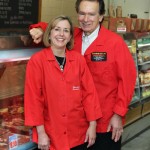 Smoked Pork Chops
4 to 8 Smoked Pork Chops (available at your local meat market) cut 3/4″ to 1″ each
2 to 3 Tablespoons of Butter
Heat butter in a heavy skillet (I used my iron skillet) over medium heat. When the butter is melted and sizzling, put the Smoked Pork Chops into the skillet. Cook for about 6 minutes per side. Continue process until all of the Smoked Pork Chops are done. Preheat oven to 300 degrees. Put a saucer upside down in the bottom of a roaster pan and put 1/4 cup of water (or apple cider) in the bottom of it. When the Smoked Pork Chops are cooked put them in the roaster pan, put a lid on the pan and place in the oven. Cook for 1 hour to 1 hour 15 minutes. This will make the Smoked Pork Chops fork tender. You can also serve them right after you fry them if you prefer a more "set" Smoked Pork Chop.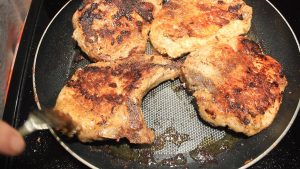 I served this with Pork and Sauerkraut. This is a dish you can make in your crock pot the day before.
Pork and Sauerkraut
3 to 4 pound bone in pork butt (available at your local meat market
2 Tablespoons of Michael's Special Seasoning (available at your
Put the Sauerkraut in the bottom of a crock pot. Layer the sliced apples on top. Season the pork roast with Michael's Special Seasoning and place the pork roast fat side up on top of the apples. Cook on high for 3 hours. Turn Crock pot setting to low and cook an additional 5 hours (until pork roast falls off of the bone). Pull the pork from the bone and take out excess fat. Keep warm. Serve this over Garlic Smashed red potatoes and you have a feast fit for a king.
Until next time…From our Butcher Block to your Table.