Well, Thanksgiving has come and gone, and you are probably a little tired of turkey right now.  We made Steak Fajitas last night.  They were so good.  I just wanted to share the recipe with you.  I did include the chicken instructions for those of you that would prefer chicken over red meat.
Steak Fajitas
2 Pounds of Flank Steak (cut into strips) Available at your local meat market (You can also use 2 Pounds of Boneless, Skinless Chicken)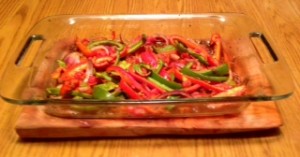 3 Tablespoons of Olive oil
1 can of Rotel tomatoes
Fajita Mixture
8 teaspoons Chili powder
6 teaspoons Ground Cumin
4 teaspoons granulated garlic
2 teaspoons dried Oregano
Use 5 teaspoons of the Fajita Mixture
1 sweet red pepper (washed, cored and cut into thin strips)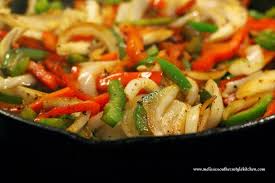 1 sweet yellow pepper (washed, cored and cut into thin strips)
1 sweet orange pepper (washed, cored and cut into thin strips)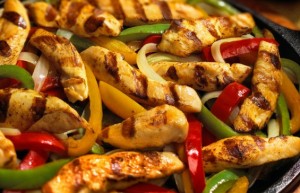 1 sweet onion (peeled, sliced and separated into strips)
Place 2 Tablespoons of Olive Oil in a Gallon size Ziplock bag. Add 5 teaspoons of the Fajita Mixture. Mix well by squeezing the bag together. Add the chicken (or steak), peppers and onion to the bag and allow to marinate several hours or over night.
Preheat the oven to 400 degrees. Place the uncooked chicken, or uncooked steak and vegetables in an 11 X 14 inch glass pan. Add a can of Rotel tomatoes and mix together. Place the glass dish in the oven and cook for 20 to 25 minutes. You can serve the Fajitas on soft flour or corn tortillas.
If you prefer to grill the Flank steak, you can leave it whole, and marinade it in a separate Ziplock Bag. Grill on a hot grill for 7 minutes on each side. Slice it and introduce it to the cooked Fajita vegetables.
Thank you for indulging me as I get my feet back on Ohio soil. Until next time…From our Butcher Block to your Table.