Valentine's Day is here—never fear I have a great way for all of you men to score BIG points with the women in your life.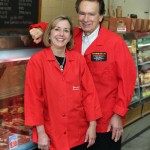 Grill her a Delmonico steak tomorrow night.  Delmonico steaks are also called "boneless ribeyes".  To really make this painless these steaks are being featured at $9.99# at your local meat market.  Add a baked potato, salad and you have a meal fit for your queen.  A bouquet of fresh flowers would also make a nice touch.
Delmonico Steaks (cut 3/4" to 1") at your local butcher shop
Sidney's Steak Rub
Depending on the number of steaks you are grilling select the appropriate number of charcoal briquettes.  I like to add in some lump charcoal.  Light the charcoal and let it burn for 30 to 35 minutes. As the charcoal is burning season your steaks with Sidney's Steak Rub.
When the charcoal is ready (or you have your gas grill ready) place the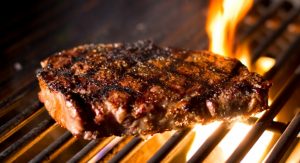 seasoned steaks on the grill. Grill for 2 minutes rotate the steaks to get the grill pattern on the Steak. Grill for 1 minute longer, flip the steaks and continue this process on the other side. After this is accomplished flip the steaks and cook for an additional 2 minutes on each side.
Steak Doneness      Remove from grill     Final Cooked Temp
Rare.                            130 to 135.                  130 to 140
Medium Rare.            140.                              145
Medium.                      155.                              160
Well Done.                  165.                              170
Enjoy your Valentine's Day! Until next time…From our Butcher Block to your Table.