You might think this recipe makes no sense.  Lasagna, without lasagna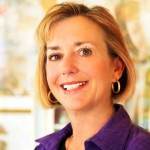 noodles?  Don't knock it until you've tried it.  I have been so hungry for lasagna.  I am avoiding sugar and carbohydrates.  I didn't feel like messing with zucchini so I adapted my lasagna recipe and made it without noodles.  The flavor was wonderful and the noodles were not missed at all.  It was very easy to assemble.  The leftovers were amazing.  I hope you like this as much as the Butcher and I did.
Lasagna
Group 1
1 to 1 1/2 pounds of sausage (available at your local meat market)
1 to 1 1/2 pounds of extra lean ground beef (available at your local butcher shop)
2 Tablespoons Granulated Garlic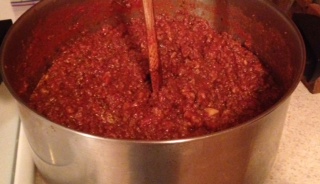 1 Tablespoon Parsley Flakes
1 Tablespoon Basil Flakes
32 oz. can of tomato puree
16 oz. can of tomato paste
Group 2
2) 15 oz. container of Ricotta Cheese
2 to 3 beaten eggs
Salt and pepper to taste
2 Tablespoons of Parsley Flakes
8 oz. of Parmesan Cheese (available at your local meat market)
1 pound of grated Provolone/Mozzarella Cheese (available at your local butcher shop)
Remove sausage from casing. I used several varieties (Hot Italian, Mild Italian, and Butcher's Wife Sausage). Place the sausage in a 5 to 6 quart roasting pan and place over medium heat. Stir until sausage is starting to brown. Mix in the Extra Lean Ground Beef and cook until all the meat is cooked thoroughly. Add the Garlic, Basil and Parsley Flakes and stir into the browned meat. Add the Tomato Puree and the Tomato Paste (you can also use 2 jars of your favorite spaghetti sauce–I would still use the garlic) and stir. Simmer for 30 minutes to an hour.
Put the eggs in a large bowl. Add the 2 containers of  Ricotta Cheese, the Parsley Flakes, the salt and pepper and mix together with the eggs.
Spray the bottom of a 9 X 13 baking dish with a "no stick" spray. Take 1/2 of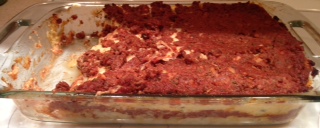 the Group 2 filling and layer it in the bottom of the baking dish. Put 1/2 pound of the grated Provolone/Mozzarella Cheese on top of the Ricotta cheese filling. Put 1/2 of the Sauce with meat on top of the grated cheese. Repeat the layer ending with the Sauce.
Preheat the oven to 350 degrees. Cook the Lasagna for 45 to 50 minutes. The grated cheese should be bubbling through the sauce when it is done.
I can guarantee this will be a family favorite. Leftovers will freeze nicely for a quick lunch or dinner.
That's all for now. Until next time…From our Butcher Block to your Table.