I had the nicest experience last Friday.  One of my customers came in.  She was excited that I was there.  She told me that she had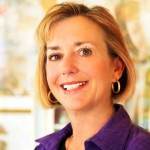 brought something for me.  She proceeded to unload her car.   She had brought me 10 Sunflower plants, at least 28 flowers and last, but certainly not least, an herb garden.  I was overwhelmed.  I had just planted all my flowers the previous week-end.  I had lamented that I didn't plant any herbs.  I was wondering if I had it in me to get more plants for that project.  In walks my customer and I don't have to worry about it.  She had done it for me.  All I can say is I am very blessed.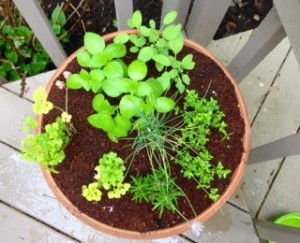 Thank you.  I am including a recipe for Tomato-Herb Marinated Flank Steak from Eating Well: July/August 2009.  If you haven't done so, plant some herbs and enjoy.
Tomato-Herb Marinated Flank Steak
From EatingWell:  July/August 2009
In this recipe, we make a dual-purpose sauce from garden-fresh tomatoes, shallot, marjoram and rosemary. We use half the sauce to marinate the steak and use the other half as a basting sauce.
Makes: 6 servings
Active Time: 
Total Time: 
INGREDIENTS
1 medium tomato, chopped
1 shallot, peeled and quartered
1/4 cup red-wine vinegar
2 tablespoons chopped fresh marjoram
1 tablespoon chopped fresh rosemary
1 teaspoon salt
1/2 teaspoon freshly ground pepper
2 pounds flank steak, trimmed
PREPARATION
Puree tomato, shallot, vinegar, marjoram, rosemary, salt and pepper in a blender until smooth. Set aside 1/2 cup, covered, in the refrigerator. Scrape the remaining puree into a large, sealable plastic bag. Add steak and turn to coat. Refrigerate for 4 hours or up to 24 hours.
Preheat grill to medium-high. Remove the steak from the marinade (discard the marinade). Oil the grill rack. Grill the steak 4 to 5 minutes per side for medium-rare or 6 to 7 minutes per side for medium, turning once and brushing the cooked side with some of the reserved sauce. When the steak is cooked, turn it over again and brush with more sauce. Transfer to a clean cutting board and let rest for 5 minutes. Thinly slice the steak crosswise and serve with any remaining sauce spooned on top.
TIPS & NOTES
Make Ahead Tip: Marinate steak for up to 24 hours.
I am anxious to try this recipe myself.  I have to wait for my Rosemary to get a little more volume before I start snipping it.
Have a wonderful day.  Until next time…From our Butcher Block to your Table.
Read More