Today I want to talk to you about the Paleo diet.  I am not a doctor so I am not saying anything from a medical point of view, just personal observation.  I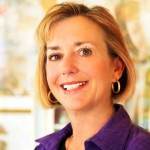 have seen so many people in our store on the Paleo diet, and they all look healthy and vibrant.  I decided I had to experience this lifestyle.  As some of you may know I started the Paleo lifestyle on May 1st.  My experience has been fantastic.  I have lost weight, and I feel great.  I went to www.Marksdailyapple.com as a starting point.  I am not good about following "blue print" diets.  This is the real world.  I eat what I have in the refrigerator and the cabinets.  With that said, I have to say I love the color of Paleo.  I eat meat, vegetables, fruit, cashew nuts and mixed nuts for snacks.  I am drinking water and herbal tea.  This has worked well for me.   Below is the first "meal" I cooked.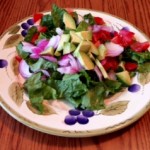 Coconut Chicken
12 chicken breasts with skin and bones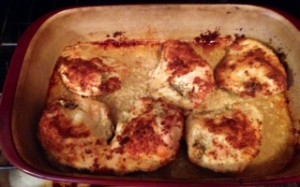 8 oz. of coconut flour
4 Tablespoons of butter
2 Tablespoons of olive oil
Put the coconut flour in a plastic bag. Moisten the chicken breasts and put them one by one into the bag with the coconut flour. Shake them and when coated put them on a paper towel. Preheat the oven to 425 degrees. Put 2 tablespoons of butter on 2 cookie sheets with at least 1 inch lip. Put the pans in the oven until the butter is melted. Put the coated chicken breasts skin side down on the baking sheets with the butter. Drizzle 1 Tablespoon of Olive Oil over the chicken on each pan. Bake for 35 minutes. Flip the chicken and bake for an additional 20 minutes. Make plenty so you have lunches and snacks in the days to come.
My breakfasts consist of 2 eggs fried in bacon grease, 2 strips of bacon with a diced tomato.  I  drink a cup of herbal tea.  Do you think you can get a lot done with a breakfast like that under your belt?  Sugar and grains are out of my diet.  I feel fantastic.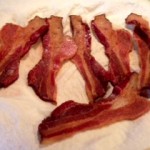 If you are currently doing the Paleo lifestyle or considering it I want to hear from you.  I would like  to share experiences and recipes.
Well, I have to go now.  Tennis is calling me–so much energy!  Until next time…From Our Butcher Block to your Table.
Read More