Is your recipe box like an old friend?  Mine is.  At one point I tried to organize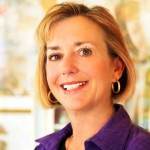 my recipes and copy all of the recipes onto matching recipe cards.  Now, several years later I love the treasure hunt as I go through the recipes and see the scraps of paper with the recipes hurriedly written down.  These are the best.  As I make these recipes, I remember the person that shared their recipe with me.  It always gives me a warm feeling.  Last night, I had a moment like that.  I had apples that needed to be used, and I knew I had a wonderful Apple Cake recipe I had picked up at an apple orchard over 25 years ago.  I looked through my recipe box but the recipe was nowhere to be found.  Then I went through my neatly organized recipes and there it was!  I could have cried.  I was so happy.  I hope you enjoy this as much as I do.
Apple Cake
4 Cups Chopped Apples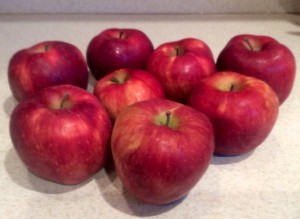 1 1/2 cups sugar
2 cups flour
3 tsp. cinnamon
1 1/2 tsp. baking powder
1 tsp. baking soda
1 tsp. salt
2 eggs slightly beaten
2 tsp. vanilla
1/2 cup of unsweetened applesauce
1 cup raisins or 1 cup of chopped nuts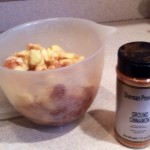 Combine apples and sugar, let stand 30 minutes. Stir together dry ingredients. Add eggs, applesauce and vanilla to apple mixture. Stir. Add raisins or nuts and dry ingredients and stir together. Grease and flour a 9 X 13 inch glass pan. Pour mixture in the pan and bake in a preheated 350 degree oven for 58 minutes.
Icing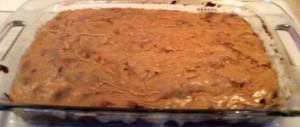 3 Tbsp. butter
4 Tbsp. milk
1/2 cup brown sugar
1 cup powdered sugar
3/4 tsp. vanilla
Dissolve brown sugar in milk and butter in a saucepan over low heat. Cool and stir in the powdered sugar and vanilla. Spread over hot cake.
This icing was shared with me over 30 years ago. I still have that original recipe in my recipe box.
There will be samples at Sherman Provision tomorrow. I am going to "share the wealth"–Translation: I'm not eating all these calories by myself.
Enjoy and until next time…From our Butcher Block to your Table.
Read More