The Butcher's birthday was this past Sunday. We celebrated all week. I made the Butcher's favorite dishes. One of his all time favorites is macaroni and cheese. I am not a fan so I don't usually make it. I knew I had to step up to the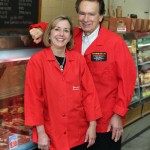 plate for his birthday. I searched online but didn't really see a recipe that was "over the top". I came up with my own concoction and the Butcher raved about it. It's a good thing because the recipe made enough to feed an army.
Smoky Mac and Cheese
1 pound of elbow macaroni  (or pasta of your choice)
1 1/2 to 2 cups of half and half or whole milk
1 to 1 1/4 pounds of freshly grated smoked provolone and mozzarella cheese (available at your local meat market)
3 Tablespoons of Butter
1 small onion, diced
2 Tablespoons of flour
1/2 teaspoon of salt
1 teaspoon of pepper
Optional toppings crumbled fried bacon and cut diced green onions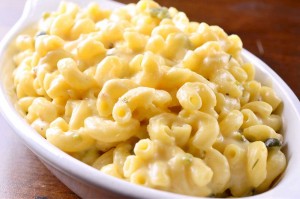 Cook pasta according to package directions, drain well and set aside. Warm milk in a saucepan over low heat. Place the butter in a roaster pan and place over medium heat. When the butter is melted add the onion and saute for 5 to 6 minutes. Reduce the heat under the roaster pan to low and stir in the flour, salt and pepper. Whisk constantly until the flour, onions and butter are mixed. Gradually stir in the warmed milk. Gradually introduce the cheese to the warmed milk mixture one handful at a time. Continue stirring the mixture until the cheese is completely melted. Add the pasta and stir until it is completely covered with the cheese mixture. If you wish you can add crumbled fried bacon and diced green onions to the macaroni and cheese.
Hope you enjoy this recipe. This will easily provide 10 meal servings or 20 side dish servings. The leftovers are great heated up.
Until next time…From our Butcher Block to your Table.
Read More