I have to admit it. The Butcher and I are going to the World Series game tonight and it is all I can do to concentrate
on this blog. We are heading to Cleveland early to drink in all the atmosphere. It should be a glorious day and evening. We are dressing for a football game but going to a baseball game–such is baseball in October.
This dish will warm you from the inside out and is perfect anytime. Time to finish this blog and put on my Indians gear!
Cheesy Ham and Potato Soup
16 oz. Michael's smoked ham, diced (available at your local butcher shop)
1/2 sweet onion diced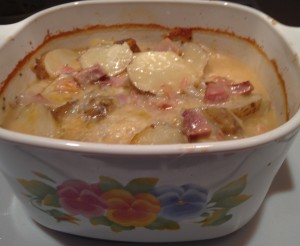 3 Tablespoons of butter
16 oz. to 24 oz. of grated Mexican cheese
5 unpeeled potatoes, washed
Fresh ground pepper to taste
2 Teaspoons of Ham flavored soup base (available at your local meat market
Put 5 potatoes in a pan, cover with water and bring to a boil. Cover the pan with a lid, turn to simmer and cook for 18 minutes. Remove from heat. Drain the potatoes, and reserve 3 cups of the water used to boil the potatoes. Mix the 2 teaspoons of the Ham flavored soup base in the water, mix and set aside. Allow potatoes to cool for 10 minutes. Cut Potatoes in 1/2 inch slices.
Heat oven to 375 degrees. Get an oven safe casserole with a lid or pan with a lid. Butter the bottom and sides of the dish. Place 1/3 of the potato slices in the dish, sprinkle with pepper, put 1 Tablespoon of butter, 1/3 of the diced onion, 1/3 of the ham and 1/3 of the cheese on top of the potatoes, repeat this process 2 more times. Pour the Ham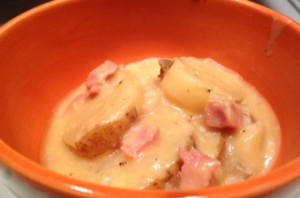 Base soup mixture over the potato mixture and cover with a lid. Bake in a 375 degree oven for 50 minutes. You can add additional cheese if you really want this to be cheesy.
I will be enjoying a bowl of this tomorrow when we stay home to watch the 2nd game of the World Series.
Until next time…From our Butcher Block to your Table. Go Tribe!!
Read More