It is hard to believe that July 4th is just around the corner.  I am not one to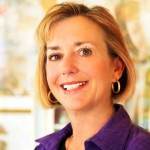 rush things but this summer is flying by at a record speed.  Blueberry Cobbler is a great dessert anytime; however the colors are especially fitting for the 4th of July.
Blueberry Cobbler
5 cups of fresh or frozen blueberries
1/2 cup water (1/4 cup if using frozen blueberries)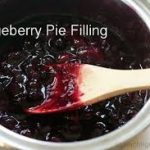 3/4 cup of sugar
4 tablespoons cornstarch
3/4 to 1 cup flour
1 Tablespoon sugar
3 tablespoons chilled butter
1 teaspoon baking powder
1/2 teaspoon salt
1/4 cup milk
1 teaspoon lemon juice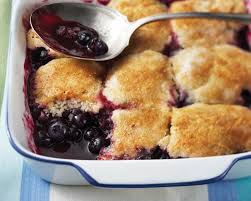 Mix the blueberries, 3/4 cup of sugar, cornstarch and water in a saucepan. Bring the mix to a boil. Reduce the heat to low and cook for 10 minutes.
In a separate bowl, combine the flour, 1 Tablespoon of sugar, salt and baking powder. Mix well. Cut in the butter with a fork until you have pea sized chunks. Mix the milk and lemon juice together in a separate container. Pour the milk mixture into the flour mixture and stir to blend. I recommend starting with 3/4 of a cup of flour and adding a little as necessary. You do not want the flour mixture to be too thick.
Pour the hot blueberry mixture into the bottom of an 8 inch square baking pan. Drop the milk and flour mix in approximately 9 large spoonfuls so that it is evenly distributed over the blueberry mix in the baking dish.
Bake the cobbler for 20 to 25 minutes. Serve warm. Vanilla ice cream makes an excellent compliment to this delightful dish!  This recipe was adapted from 12 Tomatoes Cherry Cobbler recipe.
That's all for now…From our Butcher Block to your Table.
Read More