Is anyone else having a hard time believing we have already passed the July 4th holiday?  I am in denial.  All I know is we need to get the grills fired up!  I made some pork chops this week.  I marinated them in Honey-Mustard salad dressing.  They were delicious.  Change things up by using a different marinade and/or meat.  Let me know your favorite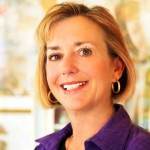 marinade.
Grilled Pork Chops with Honey-Mustard Marinade
6 to 8 center cut pork chops (you can also use boneless chops)( available at your local butcher shop)
1 jar of Honey-Mustard Salad dressing (available at your local meat market)
Place pork chops in a gallon zip lock bag. Add the Honey-Mustard Salad dressing to the bag. Seal the bag and squish the bag until the chops are all evenly coated. Allow to marinade for several hours or overnight.
Prepare the grill. I use charcoal, so that means I put about 10 lump charcoal on the bottom and I stack 20 charcoal briquettes in a pyramid. I light it and wait about 30 minutes until the coals are ready. They should be white with red embers showing through. I then spread the charcoal and put the grill top over the charcoal. If you are using gas do what is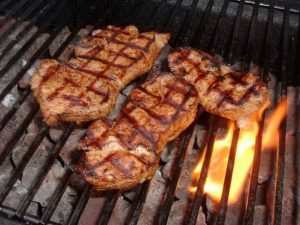 appropriate to get the grill ready.
Remove the pork chops from the bag with the marinade on the chops. Place the pork chops on the grill. Take any remaining marinade and put it over the part of the chop that has not been exposed to the coals. Wait about 5 minutes and flip the pork chops. Cook 20 to 25 minutes with 3/4″ pork chops. You should flip the chops often so they do not burn. Make sure the pork is thoroughly cooked.
You can enjoy this with grilled potatoes with onions and peppers. Grilled pineapple and applesauce are also a nice accompaniment.
Enjoy your day. Until next time…From our Butcher Block to your Table .
Read More