Well, New Year's Eve is right around the corner.  I can't tell you where 2017 went.  It is such a blur.  We have to have our traditional New Year's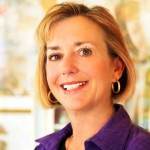 dinner of sauerkraut and pork with black-eyed peas and mashed potatoes.  We will be enjoying this on Sunday night at Midnight–if we can stay awake!
Pork and Sauerkraut
2) 2 pound bags of Snow Floss Sauerkraut (available at your local meat market)
5 pound trimmed pork butt (available at your butcher shop)
1 to 2 Tablespoons of Michael's Special Seasoning (available at Sherman Provision)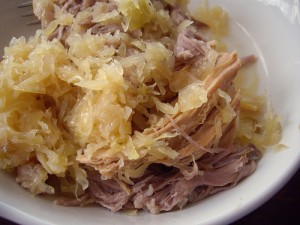 4 apples peeled, cored and sliced
2 Tablespoons of Brown Sugar (optional)
Turn your crock pot on high. Open the bags of sauerkraut and put them in the bottom of the slow cooker. Put the sliced apples and Brown Sugar (if using) on top of the sauerkraut. Season the pork butt with Michael's Special Seasoning and place the pork butt, fat side up, on top of the sauerkraut and apples. Put the lid on the slow cooker. Cook on high for about 6 hours. Your pork should be done enough to fall off the bone. If it isn't to that stage cook it a little longer. Remove the pork butt and pull it from the bones and take any extra fat off as well. Return and mix with the sauerkraut and apples. Cook an additional 2 hours on low.
Black Eyed Peas
2 Pounds of dried Black Eyed Peas (available at your local butcher shop
1/2 pound of chopped smoked ham (The Butcher's Cottage Hams are great for this)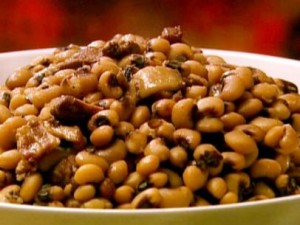 1/2  onion, chopped
Soak peas overnight. Drain in a colander and rinse. Put the Black Eyed Peas, smoked ham and onions in a pot. Cover the peas with water (about 1 inch above the peas in good) and bring to a boil. Turn to simmer, cover and cook for about 1 hour and 15 minutes. Do this ahead so you just have to warm up the peas. They don't take as long to cook as other dried beans. You can also use frozen black-eyed peas and cooking time is cut to 45 minutes.
We always make mashed potatoes and put the Pork and Sauerkraut over the mashed potatoes. You will be glad you have leftovers. The Pork and Sauerkraut will freeze well along with the Black Eyed Peas.
Our wish for you is a blessed 2018. May this be your best year yet! Until next time…From our Butcher Block to your Table.
Read More