St. Patrick's Day is right around the corner.  If you are thinking about having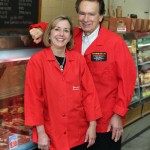 Corned Beef and Cabbage for dinner we have an easy recipe for you.  This is delicious and you will have the entire meal in one pan.  It doesn't get much easier than that.
Corned Beef and Cabbage
3 pound Corned Beef with Spice packet available at your local meat market
2) small sweet onions (peeled and cut into wedges)
10 small red potatoes (washed and left whole)
5) Carrots (peeled and cut into 3 inch pieces)
2) small sweet onions (peeled and cut into wedges)
1) head of cabbage (cleaned and cut into small wedges)
Add Corned Beef to a Roasting pan. Cover with water. Note: you can also use beef broth for all or part of the water. Add the seasoning packet. Place the cut onions in with the Corned Beef. Place a lid or tin foil over the pan. Cook at 350 degrees for approximately 2 1/2 hours.
Add the potatoes and carrots and cook for another 50 minutes. Add the cabbage and cook for 15 additional minutes. Remove from the oven and allow to sit for another 15 minutes.  If there are any leftovers they will be delicious.
Enjoy. Even if you aren't Irish your family will like this traditional meal. Until next time…From our Butcher Block to your Table .
Read More