We are definitely in the "comfort food" season in Northeast Ohio.  I have not quite adjusted to the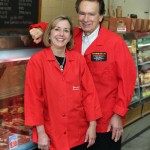 bone chilling weather we have been having lately.  Luckily, there are more Crock Pot meals to warm your bones than there are cold days.  I like today's recipe because everything is done in one pot and that is always a bonus.  Don't be afraid to make modifications to this recipe to fit your family's taste buds.
Spaghetti and Meatballs with Spaghetti Squash in the Crock Pot
1 pound of meatballs cooked (can be frozen, just make sure they are cooked)
24 oz. jar of Tomato Basil Marinara Sauce (available at your local meat market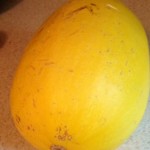 12 oz. can of Pizza Sauce (available at your local butcher shop
4 Tablespoons of grated Parmesan Cheese
2 Tablespoons of Granulated Garlic
1 Tablespoon of Dried Oregano
8 oz. can of Tomato Paste
small spaghetti squash cut around the middle with the seeds removed (scrape out with a spoon)
Optional for your Spaghetti Sauce
1 onion (peeled and diced)
2 cups of cleaned and sliced mushrooms
1 1/2 pounds of Smoked Sausage cut in 2 inch pieces (available at your local meat market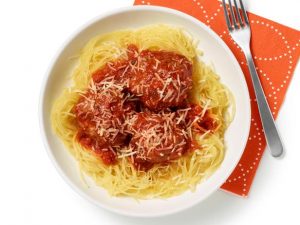 Place the meatballs and sausage (if you are using) in the bottom of the crock pot. Place onions, mushrooms (if you are using) on top of the meat. Cover with the remaining sauce and spices. Stir together. Place the 2 halves of the spaghetti squash on top of the sauce (cut side down) and put the lid on the crock pot. Place the setting to high and cook for 4 1/2 hours to 5 hours. Remove the Spaghetti squash halves from the crock pot and put the setting on low. Wear kitchen gloves when handling the spaghetti squash because it will be hot. Use a fork to scrape the "spaghetti" out of the squash shell.  The "spaghetti" will be al dente.
Serve the Spaghetti sauce over the Spaghetti Squash. A healthy, easy meal and no one needs to be the wiser. Until next time…From our Butcher Block to your Table.
Read More